Dakar 2018: Lima as the starting point
Rally Dakar will start in Lima again, this January 6th, as it did in 2013.
This new Rally edition will take place in La Paz, Bolivia, but five stages will be in our country, probably from Lima to Arequipa. Since Dakar will be back in Peru, we hope that many national drivers participate in this event and make it as impressive as they did in Costa Verde 2013.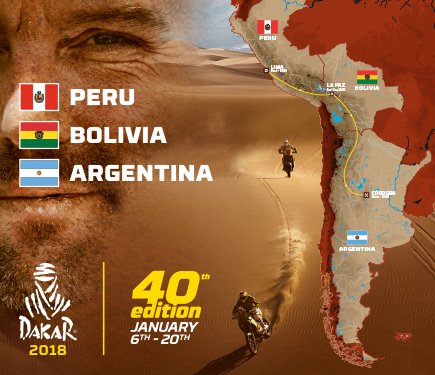 First Stage: Lima – Pisco January 6th
Second Stage: Pisco-Pisco January 7th
Third stage: Pisco-Marcona January 8th
Fourth stage: Marcona-Marcona January 9h
Fifth stage: Marcona-Arequipa January 10th
Sixth stage: Arequipa-La Paz January 11th
Rest day in La Paz January 12th
Seventh stage: La Paz-Uyuni January 13th
Eighth stage: Uyuni- Oruro January 14th
Nineth stage: Oruro-Salta January 15th
Tenth stage: Salta-Catamarca January 16th
Eleventh stage: Catamarca-Catamarca January 17th
Twelfth stage: Catamarca – San Juan January 18th
Thirteenth Stage: San Juan – Carlos Paz January 19th
Fourteenth Stage: Carlos Paz-Córdoba. January 20th.